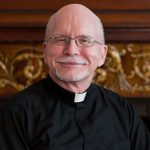 Dear Parishioners,
This is a very busy weekend here at Corpus Christi. Our parish will welcome Bishop Madden. We will see some of our young men and women confirmed. And we will celebrate our parish Feast Day – Corpus Christi.
What a fantastic weekend for our parish community – to see some of our young men and women, who have been part of the Corpus Christi community, stepping forward to be filled with the gifts of the Holy Spirit. What a grace! What a blessing!
May all of us, on this Feast Day, pray in a special way for the confirmandi – Gigi Pilla, Nicholas Caiola, Anna Doherty, Ronan Nealis, Hope Sacco, William Schmitz, Charlie Wayner — may the Holy Spirit enable them to be faithful followers of Jesus.
Peace,
Fr. Marty